Snapshot is Progressive's Largest Discount Ever!
Progressive Snapshot Agent in Everett, Washington – McClain Insurance Services! Online Quotes are available.
Progressive's Snapshot Discount is a revolutionary usage-based insurance rating program that allows drivers to personalize their car insurance rate and apply the discounts they deserve by factoring in their actual driving behavior.  Flo explains how it works:
What Snapshot Measures:
Progressive's Snapshot Discount device plugs into the car's diagnostic port and measures factors such as
Defensive driving behavior, such as smooth acceleration and slowing
Harsh braking
How often, when, and how far the vehicle is driven
How often the vehicle is driven in congested or stop-and-go traffic
How often a driver travels between midnight and 4am
Snapshot Myths – Debunked:
"It's just another way for Big Brother to watch me."
Snapshot is NOT a GPS.  It can't track your location or whether you have been at certain locations at certain times.  Snapshot is not a way for "Big Brother" to keep an eye on you, it simply is a way for you to prove defensive driving behaviors.
"I don't want to be under constant surveillance for my driving behavior."
Snapshot is not permanent.  Only the discount is.  The device only needs to stay in the car for one policy term (approximately 6 months with Progressive.)   During this time, a 'snapshot' of driving behavior is tracked and reported.  Drivers can view their driving report online, and adjust their driving behavior accordingly.  Discounts begin to kick in after 30 days of driving with the Progressive Snapshot Discount device.  After the policy period ends, the final and permanent discount is applied, and the device must be returned to Progressive
How Progressive Snapshot works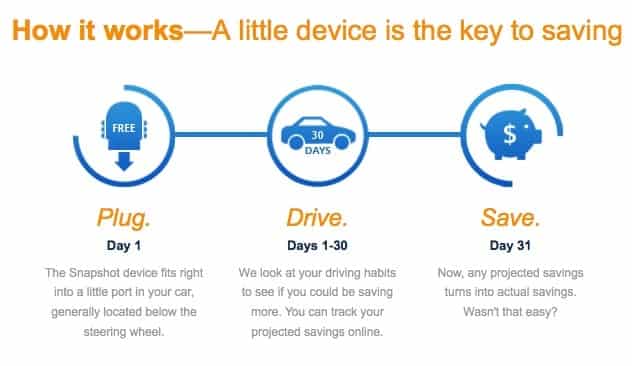 Interested but not Ready to Commit?
Drivers interested in the Progressive Snapshot Discount program have the option to test the device for 30 days to evaluate potential savings, or to obtain a Progressive Insurance quote through McClain Insurance.
McClain's team of professional agents stands ready to provide advice and more information without hassle, fee, or obligation. Call to talk to your licensed Washington Progressive Snapshot Insurance Agent!
Looking for a Progressive quote? McClain Insurance has access to both the standard Progressive policy, as well as the Snapshot product. Click the button below to get started!