McClain Insurance earns coveted Safeco Insurance 2022 Award of Excellence
Fewer than 1% of Safeco agents earn the recognition
At McClain Insurance, our goal has always been to help you and your family make smart insurance decisions.
We're thrilled to announce that the experience, skill and dedication of our team in doing exactly that has been recognized by Safeco Insurance, which recently recognized our agency as a 2022 Award of Excellence recipient.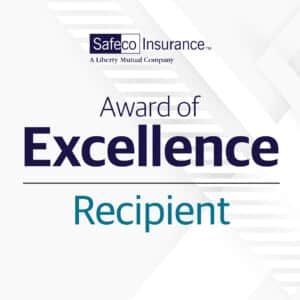 The Award of Excellence is the most prestigious underwriting recognition Safeco independent agent partners can achieve, and celebrates our team's superior underwriting skills and excellence in customer service. Fewer than one percent of Safeco independent agent partners earn this distinction each year.
We're committed to providing the ease, choice and advice you need to navigate your unique personal insurance needs, and this distinction really validates our agency's effort and expertise in helping our clients navigate the decision-making process.
Claudia McClain shares the value of having an independent insurance agent work with you
Let us show you the independent insurance agent difference! Whether you want to save money, make sure you have the correct coverages or talk about how life changes have impacted your needs, we've got you covered.
Contact us today to learn more about our team and to see how we can help you!