McClain Insurance Named Agent for the Future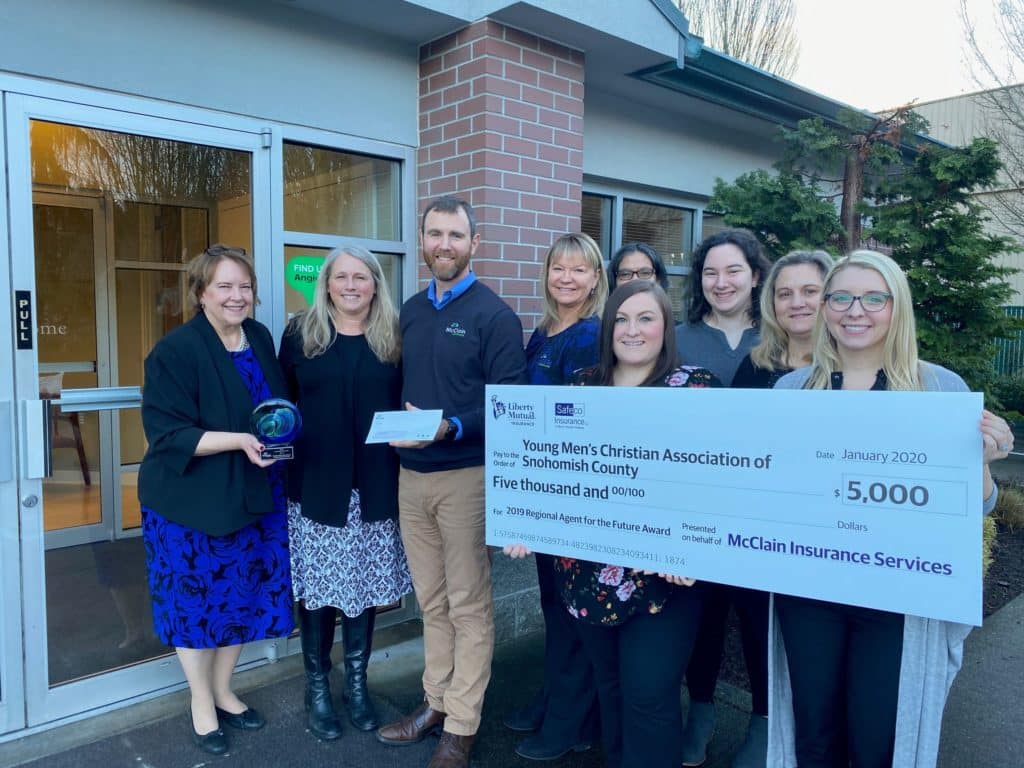 Everett, Wash. (January 22, 2019) — McClain Insurance in Everett has been named the 2019 Northwest Region Agent for the Future by Safeco Insurance. As part of the award, Safeco pledged $5,000 to the nonprofit of the agency's choice. McClain Insurance chose Big Brothers Big Sisters of Snohomish County to receive this grant and donated an additional $5,000 to the organization.
McClain Insurance is the only agency in Safeco Insurance's Northwest Region, which is comprised of more than 1,800 agencies across five states, to receive the 2019 Agent for the Future Award. It recognized McClain Insurance for its commitment to innovation, growth, and advancement.
"McClain Insurance is thrilled to be honored with the Agent for the Future Award from Safeco Insurance. We are dedicated to meeting the evolving needs of our clients through technologies like texting and our agency app, making it easy for clients to do business with us. We are excited that this focus is being recognized," said Claudia McClain.
In addition to the $10,000 donation, McClain Insurance also named BBBS a 2020 McClain Insurance Community Champion, which recognizes individuals and organizations working to make Snohomish County a better place.
McClain Insurance has supported BBBS for more than eight years through various sponsorships and our Share the Good Referral Program. Agency Vice President Nick Pembroke also volunteers as a reading club leader through BBBS' Kids Book Club program.
# # #
About McClain Insurance
McClain Insurance Services is a nationally-acclaimed insurance agency in Everett, Wash. Since opening in 1977, our mission has been simple and clear: to help clients re-establish their lives as quickly and as completely as possible after a loss.
We advise clients on all their personal insurance needs, including homeowners and renters insurance, auto insurance, and life insurance. We can also assist with insuring more unique family needs, including electric bicycles, VRBO and other vacation rental properties, and in-home businesses.
As independent insurance agents, we partner with the Pacific Northwest's best insurance companies. This allows us to offer choices to every client.
To learn more about McClain Insurance Services and our team of licensed insurance advisors, visit our websites: www.autohomeboat.com and www.quakequotes.com.
About Agent for the Future
Liberty Mutual Insurance and Safeco Insurance believe in the enduring value of independent agents, and the Agent for the Future™ platform was born out of that belief. Agent for the Future exists to help independent insurance agents succeed and thrive now and into the future. On the Agent for the Future website, you'll find original research, actionable insights from insurance experts, and case studies highlighting the tactics winning agents are using to grow and thrive.
For more information about Agent for the Future, visit www.AgentForTheFuture.com.