5 Common Questions about Classic Car Insurance
Make sure your classic car has the protection it deserves
Around here, we like to say that summer officially starts on July 5. With warmer weather arriving, we know many classic car owners are taking to the roads to show off their hard work. But do you have the right coverage to protect your investment?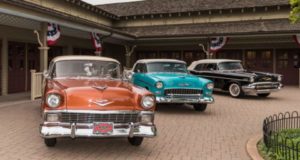 Three Chevy Bel Air cars at a Michigan car show
When I was a kid, my parents had a knack for buying cars that ended up becoming classics, even though they didn't know it at the time. My mom and dad's first car was a turquoise 1955 Chevy Bel Air convertible, just like the center car in the photo above. They next bought the classic white Ford Thunderbird.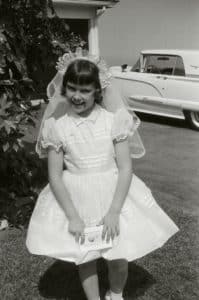 A young Claudia McClain in front of her family's Ford Thunderbird
My own dream car was a bright red 1965 Ford Mustang convertible that a friend was bored with and decided to sell in the mid-70s. She wanted $750, but I didn't have that kind of money at that point and had to pass. Worst investment decision ever!
McClain Insurance Agent Nick Pembroke remembers the thrill of taking his grandpa's 1967 Ford Mustang out for a spin when he was 16. The car was one of his grandfather's prized possessions and he always kept it in pristine condition.
Like Nick's grandfather, most vintage car owners invest many hours and dollars into their cars. But if you don't have adequate insurance coverage on your classic car, you may be at risk for unexpected costs in the event of an accident or other claim.
Check out our 5 common questions about classic car insurance below and then contact us to make sure your vehicle is properly protected.
But first…
What is a classic car?
Age isn't the only feature that makes a car "classic." If your vehicle is worth more than its original sale price, it may qualify as a collectible.
If you own a vehicle that falls into any of these categories, we encourage you to contact us to discuss class car insurance:
Antique and classic cars (typically classified as those 25 years and older)
Hot rods or modified vehicles
Exotic or limited-edition modern classics
Collector trucks and SUVs
Vintage military vehicles
Antique tractors
Vintage commercial vehicles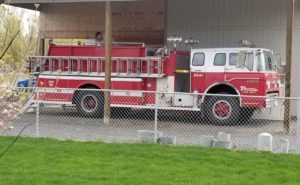 A vintage fire truck belonging to team member Meghan Pembroke's uncle. He plans to drive it in their community parade once it's fixed up.
Now that you know what makes a car "classic," here are some of the classic car insurance questions we often hear from customers.
1. Will I still be able to take my classic car out for a weekend drive under a classic car policy?
We frequently hear from customers who are concerned that they won't be able to drive their vintage car as often if they insure it on a classic car policy. In the past, this was sometimes an issue for classic car owners. Specialized policies limited the number of miles the vehicle could be driven each year.
These days, we have great options for customers who like to drive their classic cars to the grocery store or take them on road trips once in a while. Some of our insurance providers offer flexible policies that allow our customers to take their vehicles to the local farmers market and to events and car cruises.
However, if you are planning to use your car as your daily commuter vehicle, a classic car policy will not be the best choice for you. In fact, most classic car insurance providers require that all drivers in the household also have a regular-use vehicle for daily driving.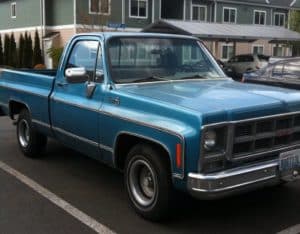 Claudia and Pat McClain's 1979 GMC pickup
2. If my car needs repairs, can I do the work myself and still get adequate coverage?
Special vehicles need special care when it comes to repairs. In fact, many vintage car owners prefer to do repairs themselves.
With standard car policies, companies often provide a limited selection of repair shops that customers can choose from in the event of an accident or breakdown. Most classic car policies, on the other hand, allow owners to choose the repair shop that they are most comfortable with. They will also cover the cost of repairs if you choose to do them yourself.
In fact, some classic car insurance companies will even help you track down hard-to-find replacement parts for your vehicle if you need to make a repair.
3. I only drive my classic car in the summer. Can I drop insurance coverage in the winter when it's in storage?
Just because you won't be driving your vintage car during the winter months doesn't mean that you should drop insurance coverage. Some owners believe that as a "collector's item," antique cars that are in storage or parked in the garage or shop are covered under their homeowners policy. That is not the case!
Homeowners insurance excludes coverage for all motorized vehicles that are designed for road use.
It is important to maintain year-round coverage for your classic car in case of fire, theft, or another unexpected loss. If you don't have your antique car listed on an appropriate policy, you may be left to absorb the cost of a loss out of your own pocket.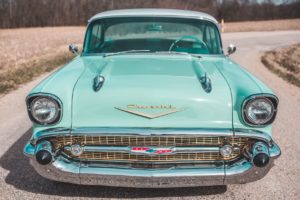 A vintage Chevrolet coupe
Classic car insurance was a huge help for one of our longtime clients a few years back. Our customer had his 1957 Chevrolet 150 in storage over the winter. When he checked on it, he discovered that mice had created a nest in the vehicle, causing more than $2,000 in damage to the ceiling fabric, upholstery and carpet.
Because he had a classic car insurance policy, he was able to choose where he wanted to have the repairs done. The insurance company even sent a claims representative out to talk over the damage and repairs with the repair shop. Our customer was very glad to get his car back in pre-mice condition!
4. Do I need to insure my classic car that isn't currently running?
We know that many collectible cars start as a work in progress. And if your project vehicle isn't currently running, you may not think you need to cover it with a classic car policy. But that can be a costly misconception.
If a vehicle is completely in parts and boxes, your homeowners policy might provide limited coverage in the event of a fire, theft or other loss to those parts. But in general, our rule of thumb at McClain Insurance is: If it looks like a vehicle, insure it like a vehicle – even if it isn't currently running.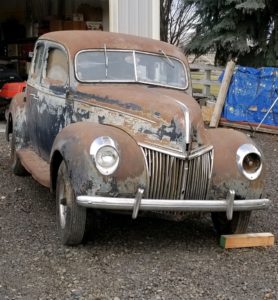 Meghan's dad is planning to restore a 1939 Fordor that belonged to his great uncle
Homeowners policies exclude coverage for motorized vehicles designed for road use. If you are restoring a vintage car, we recommend getting a classic car policy to make sure you have the coverage you need in the event of a loss.
5. Why can't I just add my classic car to my auto policy?
While you can add your classic car to your standard auto policy, we don't recommend it. Going that route will likely cost you more and will not provide the special benefits that a classic car policy offers.
Standard car insurance policies are designed for daily driving in a standard vehicle. Unlike classic cars, which can gain value as they "age," standard vehicles depreciate as you add miles and years to them. In the event of a claim, a standard car policy will cover you based on the current market value of your car. Providing adequate coverage for a vintage or collectible car under a standard policy can be significantly more expensive than a classic car policy with rates built for collector vehicles.
Classic car policies, on the other hand, are based on the "agreed value" of your vehicle (see "properly value your car" below). They also offer unique coverages tailored to meet the needs of classic car owners, like those described above. Those include:
Choosing your own repair shop (or completing repairs yourself)
Special coverage for auto shows
Spare-parts coverage
Classic car memorabilia, such as vintage signs
In-house claims handling
Roadside coverage
Other classic car insurance considerations:
Specialized roadside assistance: Vintage car owners are more likely to experience a breakdown than an accident. In addition to typical coverage provided by a standard auto policy, classic car policies often offer specialized roadside assistance, including flatbed towing. In the event of a breakdown or accident, flatbed towing is the safest way to transport a damaged high-value car.
Properly value your car: To make sure you have the coverage your vintage car deserves, you need to properly value your vehicle. A classic car policy, unlike a standard auto policy, is based on "agreed value" rather than actual cash value, which factors in depreciation of the car as it ages. Agreed value considers other factors like miles driven, customizations and modifications. In the case of a total loss, it would pay for the full value of the car. The National Automobile Dealers Association offers helpful tips on to help you determine the appropriate value of your classic or collectible car.
Secure storage: Some carriers will require that your vintage car be stored in a locked, enclosed structure, such as a private garage or storage unit. Others allow vehicles to be stored in driveways, carports or car hauling trailers.
Contact the McClain Insurance team today to learn more about our classic car insurance options!