Community Partners: Cocoon House
Ensuring Food for Our Future during COVID-19
March 2021 Update: We're a national winner of a Safeco Make More Happen grant benefitting Cocoon House! To learn more, visit www.agentgiving.com/mcclain-insurance. Below is our June 2020 blog post announcing our Food For Our Future initiative with Cocoon House. 
McClain Insurance has had an ongoing partnership with Cocoon House since 2010. Back then, Cocoon House volunteers operated a small eight-bed emergency shelter out of an old home down the street from our office in Everett, Washington. Since then, Cocoon House has expanded its operations to include long term housing, street outreach, and a nationally recognized prevention program that focuses on parents building their family management skills.
Cocoon House's work is deeply important to our team.  We want to do everything we can to help ensure they can continue providing the housing, mental and physical healthcare, food and basic needs, and other support our at-risk youth deserve.
Food for Our Future Partnership
It's a difficult time for many people in our community. We're more grateful than ever for your support.
By purchasing insurance from an independent agency like ours, you're assuring that careers and payroll remain in the Snohomish County economy. Your support in turn allows our team to give back to the community that means so much to us.
After talking with neighbors and friends, our team realized we needed to amplify our efforts to support other local businesses and nonprofits during this challenging time.
McClain Insurance has pledged to provide a hot, catered dinner every Wednesday throughout the COVID-19 crisis for the resident teens of Cocoon House. We feel honored to help provide food for the future of our community.
We're purchasing the weekly meals from local restaurants struggling to stay afloat. It's our hope the meals will help support these businesses while off-setting Cocoon House's increased food costs due to COVID-19. Previously, church and community groups often supplied homemade dinners. Regulations now prohibit this, putting a large strain on the Cocoon House food budget.
Each meal will be delivered by our team. You can follow along with our Food for the Future deliveries on our Facebook page.
We're deeply grateful for our vendor and insurance company partners who heard about our Food for the Future initiative and asked to join us. Our current Food for the Future partners include:
Alpine Cleaning and Restoration, a family-owned restoration company specializing in water and mold restoration, smoke and fire restoration, and biohazard cleanup
PEMCO Insurance, one of the Pacific Northwest's top-rated insurance companies
Cocoon House and COVID-19
Cocoon House provides an essential safety net for homeless and at-risk young people in Snohomish County who have nowhere else to turn. These vulnerable youth experience elevated health risks, especially so during this time of crisis.
Cocoon House is often these young people's only resource. These are youth working to overcome significant barriers and unimaginable life challenges– many are homeless, survivors of abuse or other trauma, teen parents, or battling addiction or have family members who are addicts. Among the homeless population Cocoon House serves, the average age is 14.5 and 40% are LGBTQ+. It is imperative Cocoon House helps keeps these children safe and healthy. COVID-19 does not discriminate, and anyone is susceptible to being exposed or contracting the disease.
Since early March, the Cocoon House team has worked around the clock to adapt and continue their programs while working on the front lines of COVID-19.  While many other non-profit partners in our community have discontinued services, Cocoon House remains committed to keeping vital services in operation throughout the entire experience of COVID-19, including "The Hub," their state-of-the-art 32,000 square foot, three-story complex. Here, Cocoon House operates dorm-style housing units and a full-service day center offering meals, chemical dependency and mental health counseling, showers, a computer and music lab, rooms for employment training, and more. All these programs continue to operate with new guidelines in place to ensure the safety of staff, youth, and the greater community.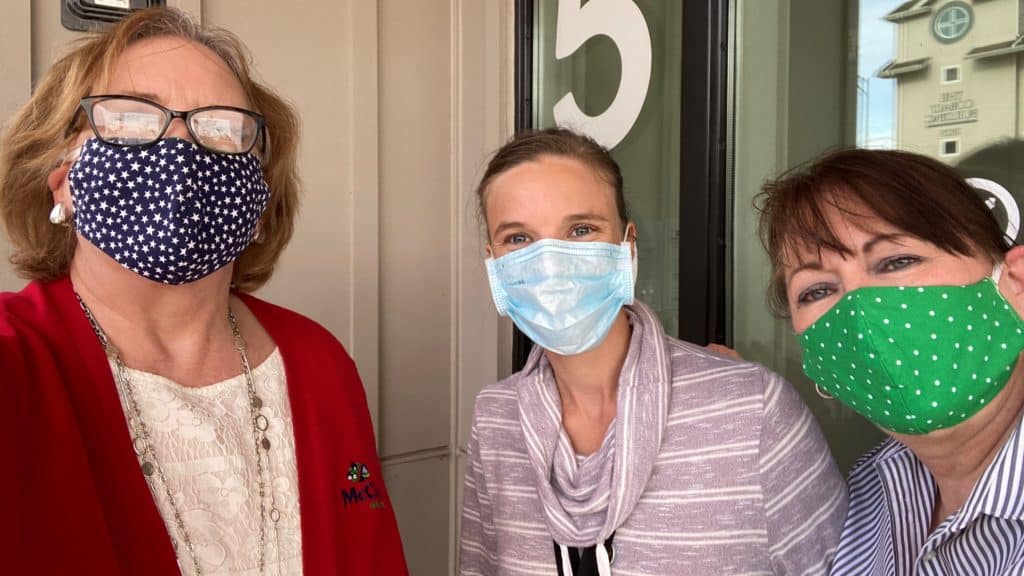 Cocoon House also has a nationally recognized prevention program that focuses on parents building their family management skills. These programs are also continuing on a modified basis. Rather than in-person meetings, Cocoon House family specialists are connecting over the phone or by video conference to guardians and families who need support.
More than 2,500 youth and families rely on these critical programs every year. In 2019, this included 6,000 visits to Cocoon House's drop-in center, stable housing for nearly 200 youth, 3,500 street outreach contacts, 9,500 survival aid items distributed, and 6,500 meals. When young people leave Cocoon House programs, 86% are exited to safe destinations, 89% are enrolled college, and 77% obtain employment or are improving their job skills.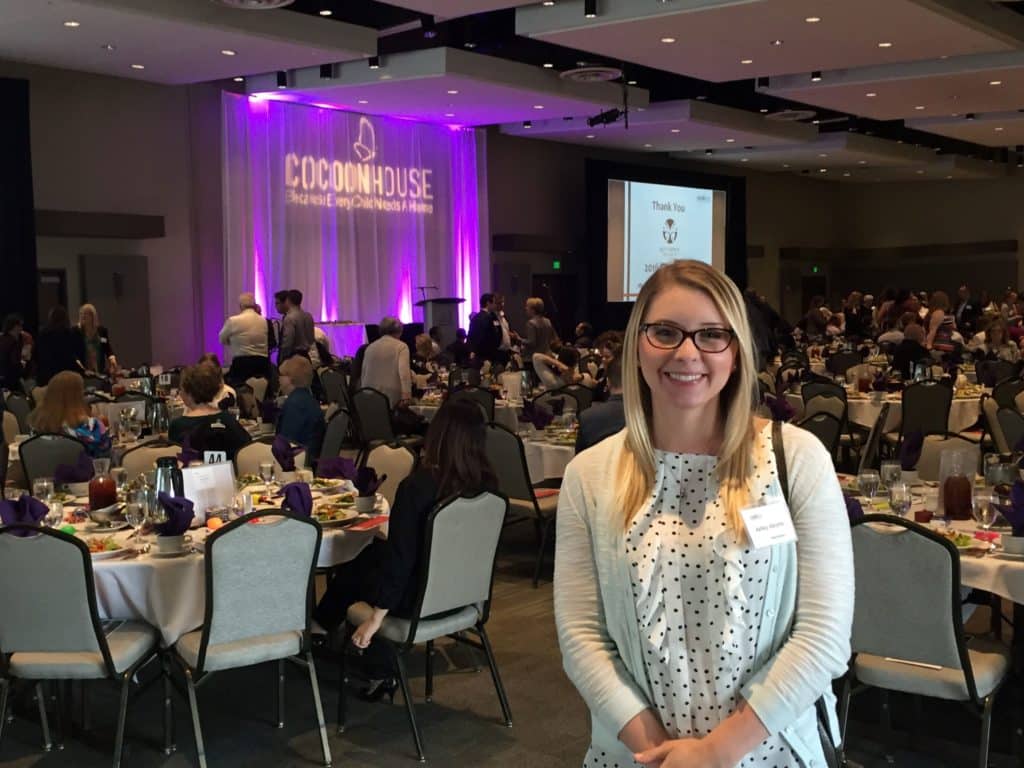 McClain Insurance's Ongoing Partnership with Cocoon House
As our team has grown over the years, Cocoon House has also grown. So, too, has our relationship with them.
Our relationship with Cocoon House is not defined by a single project or initiative but is instead an ongoing partnership of support.  Below are some of the other ways we support Cocoon House:
An Evening in SILK Dinner and Auction: Cocoon House's An Evening in SILK Dinner and Auction is their largest fundraising event of the year. McClain Insurance has been a Silver Sponsor of this event (along with big names like The Boeing Corporation) since 2015, helping ensure every dollar raised at the event goes directly to Cocoon House's vital youth outreach, housing, and prevention services.

Butterfly Celebration and Luncheon: We began sponsoring Cocoon House's annual Butterfly Celebration and Luncheon in 2015. This is a unique opportunity to recognize and honor the many accomplishments of Cocoon House young people who have overcome significant barriers and unimaginable life challenges. Each year, we join more than 600 community allies to listen to these young people's stories, show them how much their community cares about them, and cheer them on as they graduate from Cocoon House's programs.

Capital Campaign: In 2017, Cocoon House launched a $13.7 million capital campaign to build a 32,000 square foot, three-story complex that would including dorm-style housing units and a full-service day center offering meals, chemical dependency and mental health counseling, showers, a computer and music lab, rooms for employment training, and more. We were humbled to invest in their capital campaign to build this state-of-the-art facility, and we were thrilled to celebrate its grand opening this April 2019.

Give Hope for the Holidays Drive: We launched our Give Hope for the Holidays Drive in 2019. Throughout November and December, we collected donations from Cocoon House's holiday wish list so more than 2,500 young people across Cocoon House programs could celebrate the holidays. The drive brought together our team, clients, community centers of influence, and insurance company and vendor partners. Everyone generously donated new clothing and shoes, make-up and personal care items, diapers and wipes, fun items like bluetooth speakers, nearly $400 in gift cards, and a sizable cash donation. In the past, we've also organized diaper drives for Cocoon House's teen parents and collected donations of warm socks for teens on the street. 

Providing Unique Experiences.  Our commitment to Cocoon House includes creating new opportunities for their youth. This started in 2014 with "Take a Teen to Work Day." Because many Cocoon House youth come from difficult family situations, fun holidays like "Take Your Kids to Work Day" are difficult for them to participate in. We want all children to have the same opportunities, so we partnered with Cocoon House to create our own "Take Your Teen to Work Day." Since then, we've had the opportunity to host a Halloween party for more than 50 youth at Cocoon House's U-turn Teen Resource Center and hosted Cocoon House staff, youth, at their families at a Seattle Mariners game and showing of the movie A Beautiful Day in the Neighborhood. 

Share the Good Referral Program. At the core of our community giving is our Share the Good Referral Program, which donates $25 to our designated Charity of the Quarter for every referral we receive. We receive more than 650 referrals a year. Cocoon House has been one of our designated charities since 2012.