Community Partner: Everett Animal Shelter
Caring for Animals in Need
We are pleased to highlight the Everett Animal Shelter, one of our wonderful local nonprofit partners!
McClain Insurance has been a proud sponsor of the shelter since 2017. And as a team full of animal lovers, this organization holds a very special place in our hearts.
McClain Insurance Pets
Altogether, our team currently has seven dogs and several fish – plus many grand-pets and pet cousins!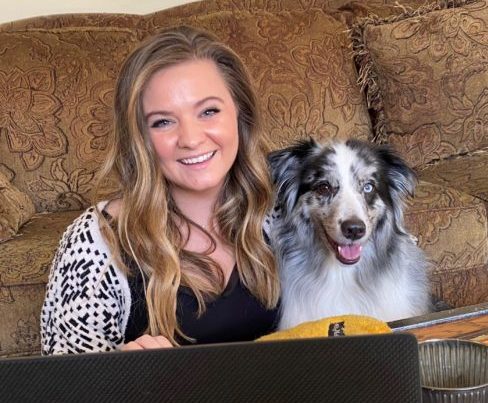 Mary Fisher's daughter, Kendall, and Buckley participate on a "Global Pet Call"
The McClain Insurance extended family includes several pets who were adopted from local shelters. Caitlin Klosterman's dog, Russ, was a former shelter pet and is now her constant companion. Kim and her husband recently adopted their dog, Trapp, from the Wenatchee Valley Humane Society.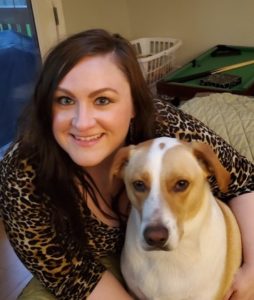 Caitlin and Russ
For many of us, shelter pets have been some of our most treasured family members. Nick and I have years of special memories of Stella, the feisty and lovable terrier that I adopted while I was in graduate school in Pullman. Stella loved camping and hiking, never met a squirrel she didn't want to chase, and was utterly devoted to our family and her adopted brother, Monte.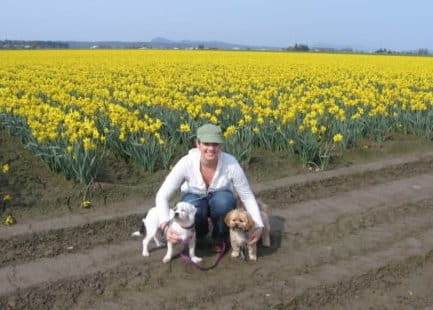 Meghan Pembroke with Stella and Monte in the Skagit Valley
During the pandemic we adopted a puppy, Ashland, from the Everett Animal Shelter. She has brought some happy chaos to our home and is Nick's most devoted trail-running partner.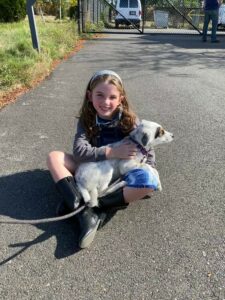 Nick and Meghan's daughter, Ada, with Ash on her adoption day
Every shelter pet brings their unique personality and experiences to their new family. Claudia and Pat McClain can attest to that! About 20 years ago, they adopted a sweet and shaggy golden retriever named Magoo from the Everett Animal Shelter. A neighbor had surrendered Magoo because they couldn't handle her repeated escapes from their yard.
Claudia and Pat soon discovered that it wasn't mischief that led to Magoo's frequent breakouts. Another of their neighbors was a retired physician with Alzheimer's who would take daily walks through the neighborhood. Somehow, Magoo instinctively knew that her calling was to be a watchful and attentive walking partner for the doctor, and no fences were going to keep her from her task.
About the Shelter
The Everett Animal Shelter has been serving animals like Magoo for more than 30 years. They are an open-admission shelter, caring for and comforting homeless and abused pets in our community. And though their team is based in the northeast corner of Everett, they take in animals from all over Snohomish County.
Like the McClain Insurance team, the shelter team is small but mighty – and busy! In 2019 they cared for more than 5,500 animals. Their on-site veterinarian staff performed more than 1,920 spay and neuter surgeries last year.
The shelter even boasts some pretty famous alums, including a very special dog named Noodle. Noodle came to the shelter in 2017 with a spinal cord injury that left her back legs paralyzed. The shelter team quickly determined that the active puppy would need custom equipment to keep her moving. After weeks of specialized care from shelter staff and volunteers, Noodle was adopted by an outdoors-loving couple who also happened to be physical therapists.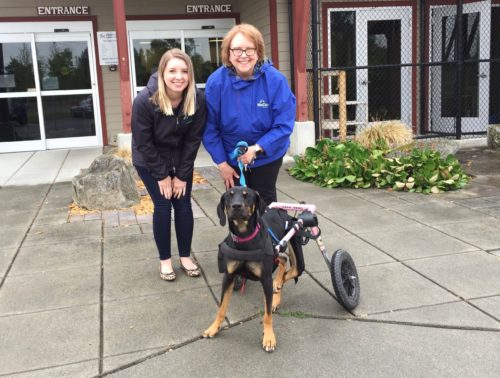 Ashley and Claudia with super-dog Noodle in front of the shelter
The energetic dog has gone on to achieve viral fame, including a recent appearance in the Petco Foundation's Holiday Wishes competition. We dare you not to smile at this adorable video of Noodle as a puppy!
Serving Our Community
Everett Animal Shelter is open admission, meaning they do not turn any animal away. They take in stray animals, animals surrendered or abandoned by their owners, and animals that have been involved in cruelty cases. That kind of care can be costly, and the shelter relies on support from the community to care for animals as they heal and wait to be adopted.
In addition to adoptions, the shelter provides pet licensing and animal control services in the Everett city limits. You can also visit them to get your pet microchipped. (A microchip is a permanent ID that makes it easier for you to reconnect with your pet if they go missing.)
If you haven't visited the shelter yet, we highly recommend it! The shelter moved to its beautiful, state-of-the-art home across from Langus Riverfront Park in 2013. The facility features spaces for dogs, cats, birds and other small animals, kennels with access to the outdoors, and a large grassy area with room for dog walking and exploring.
Our Partnership
We've been partnering with the shelter for several years. In 2017 we successfully nominated Everett Animal Shelter for a $1,000 Safeco grant to help them care for animals throughout the community. That holiday season we also donated a bag of dog food for every pet insurance quote our team completed.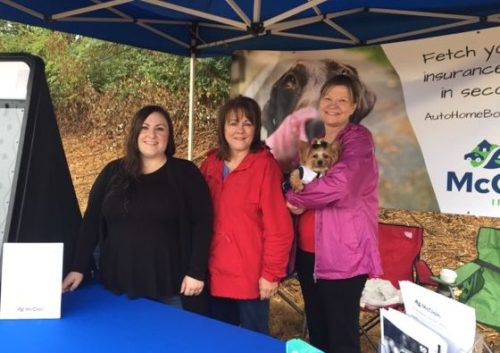 Caitlin, Mary, Dova and Nattie at Mutt Strut
In years past, the McClain Insurance team has been the "Top Paw" sponsor of Mutt Strut, a fun event where dogs are the stars. Mutt Strut features dog parades, agility demonstrations, cute accessories and yummy treats… if you've got a dog in your life, you won't want to miss it!
Get a taste of Mutt Strut fun with this video of the 2019 event (bonus points if you spot McClain Insurance team members and our pets!).
Get Involved
The shelter is fortunate to have an incredible team of dedicated, enthusiastic volunteers who support their important work. From dog-walking to fostering to helping keep the shelter neat and tidy, caring for animals in Everett is truly a community effort.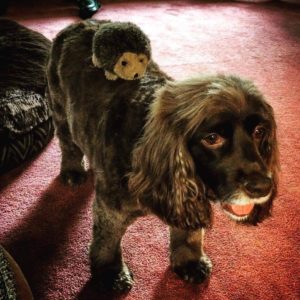 Kim's dog Sadie with her own furry friend
Team member Kim Matthews has been a longtime supporter of the Everett Animal Shelter. She donates food regularly throughout the year. And she and her husband, Phil, organize a big pet food drive around the holidays as part of their annual Christmas party.
If you love animals as much as we do, there are lots of ways to get involved with the shelter!
Share the Good Referral Program
Everett Animal Shelter is one of the Community Partners in our Share the Good referral program. We invite our clients to tell friends and family about their good experiences with McClain Insurance. Then we pay it forward in our community!
Here's how it works:
Someone calls, texts, or emails us and says you referred them. (Thank you!)
One of our licensed agents provides a free protection review.
We make a $25 donation to one of our nonprofit partners: Everett Public Schools Foundation, Big Brothers Big Sisters of Snohomish County, Everett Animal Shelter, and Cocoon House.
Watch for more
We'll be partnering with the shelter on some fun virtual events in the coming months, so stay tuned. Be sure to follow us on Facebook to get the scoop – and to see photos of our own adorable pets!