Get to Know the McClain Team: Laura Paradis
In honor of Laura Paradis' 14-year anniversary with McClain Insurance, we're playing "Get to Know the McClain Team." We hope you enjoy learning more about Laura, what she loves about insurance and our community, and her answers to our lightning-round questions.
Tell us a little bit about yourself, your family and where you grew up.
I was born in Charleston, South Carolina. My father was in the Air Force, and our family was then stationed in Germany for three years when I was 3 years old. We were then transferred to California for a few years before moving to Kansas for a year while my dad was in Thailand with the Air Force. We then came back to California before moving to Guam for two years.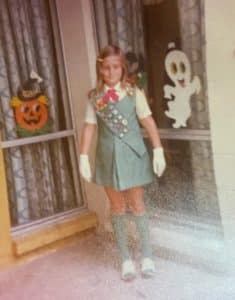 Young Laura as a Girl Scout
While living in Guam we experienced a category 4 typhoon. We were without electricity for two weeks! No cold drinks available in a humid climate!
After Guam we moved to Tacoma, WA when I was 12 years old and remained in Tacoma through high school until I was 24. I moved to Everett in 1988 and have lived in the Everett area since then.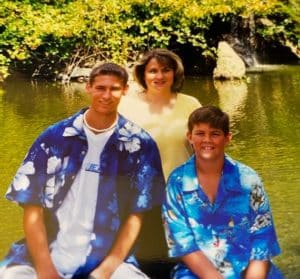 Laura with sons Matt and Kyle
My two sons, Matt and Kyle, are both married with kids of their own; Matt has three kids and Kyle has two. My husband, Jeff, and I have 8 grandchildren between us, ranging from 4 months to 9 years old.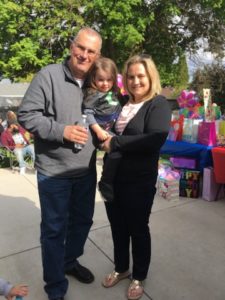 Laura and husband Jeff with granddaughter Harper on her birthday
Tell us about your career. How did you get into this industry and when did you join the McClain team? Any notable non-insurance jobs?
I got started in the insurance industry in 1988 and have worked at various agencies over the past 33 years. However, I've been honored to be a part of the McClain team since 2007. I enjoy helping people with their insurance needs and helping them be protected with the right coverage to protect them in a loss.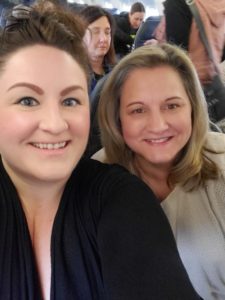 Laura with Caitlin Klosterman on McClain team trip
What do you like to do outside of work?
I enjoy spending time with my husband and family, especially with our grandchildren!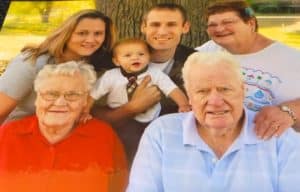 Laura with her mother, grandparents, son Matt and firstborn grandson, Caleb, when he was 7 months old – five generations in one photo!
I enjoy traveling to destinations. My husband and I like to go to Hawaii and Las Vegas. We also enjoy visiting family in Iowa and Tennessee. I hope to take my grandchildren to Disneyland or Disneyworld some day!
Laura with grandkids Caleb, Austin, Elaina and Emmy on a ferry ride
I also love to vacation on cruise ships! I've taken at least six cruises over the years. Jeff and I were supposed to go on one last year for our 10-year anniversary, but it was cancelled due to COVID. We'd love to still try and go again in a year or so.
I enjoy being outside when the weather is nice. I also like to shop and find bargains for myself and grandchildren!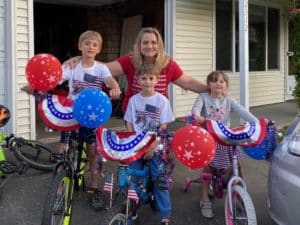 Laura with Caleb, Austin and Elaina on the Fourth of July
Lightning-round questions!
1. What new hobby or skill would you like to learn? Painting
2. What is your biggest fear? Heights
3. What motivates you to work hard? Feeling accomplished
4. What would you sing at karaoke night? "We are family"
5. What did you want to be when you were a child? Teacher
6. What are two things you know you should know how to do but don't? How to do CPR correctly and how to change a tire
7. How did you spend the money from your very first job? Clothes?
8. What's your favorite holiday tradition? Listening to and singing Christmas carols
9. What book had the most significant impact on you? Bible
10. What pets did you have growing up? A few dogs
11. What's the most daring thing you've ever done? Fly in a helicopter?
We're so glad Laura is part of the McClain Insurance family! To learn more about Laura and the rest of our team, visit autohomeboat.com/about.