Get to Know the McClain Team: Meghan Pembroke
In honor of Meghan Pembroke's 1-year anniversary with McClain Insurance, we're playing "Get to Know the McClain Team." We hope you enjoy learning more about Meghan, what she loves about communications and our community, and her answers to our lightning-round questions.
Tell us a little bit about yourself, your family and where you grew up.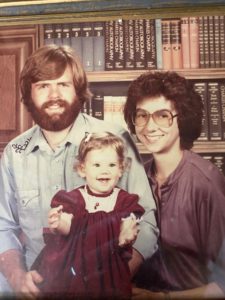 Baby Meghan with her dad and mom
I grew up in Selah, Washington, with my parents and younger sister. Our family had chickens, cows, a big garden and a little orchard. My grandma lived at the end of our driveway and I have lots of memories of listening to music at her house, bringing her the mail and mowing her yard when I got older.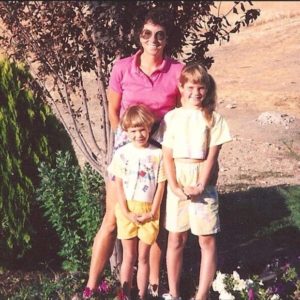 Meghan with her mom and sister, Erin
My parents still live in Selah and our family loves visiting and enjoying all of the sunshine and warm summers there.
As a kid I loved music, theater, reading, writing and being outdoors. I earned my bachelor's degree (in literature and writing) at Whitworth College and my master's degree (English literature) at Washington State University.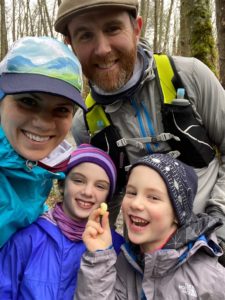 The Pembrokes on a Gulch hike
My husband, Nick, and I have two kids, Ada and August, and two dogs, Monte and Ashland (Ash). Ada also has several fish. We live in the Boulevard Bluffs neighborhood of Everett and love being close to Japanese Gulch and the beach.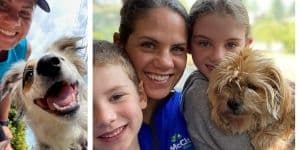 Meghan and Ash on a run; Meghan and kids with Monte
Tell us about your career. How did you get into this industry and when did you join the McClain team?
I got my start in the communications field while working for Heritage University after grad school. I moved to Seattle in 2006 and worked for the Washington State Department of Transportation for several years before moving to Seattle Children's Hospital's media team. In 2013 I took a job with the City of Everett as the director of communications and marketing.
In 2019 I decided to stay home with our kids and find a part-time role. Last year I joined the McClain team after our previous communications director decided to stay home with her kids.
Fun fact! I met Nick through my sister, Erin, who worked for McClain Insurance when she first moved to Seattle.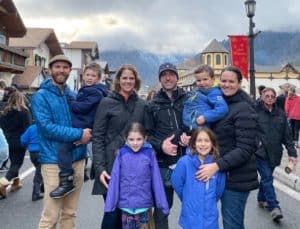 The Pembrokes with Erin's family in Leavenworth
What do you like most about working for McClain Insurance?
Despite having a husband and sister in the field, this is a brand-new industry for me, and I love the challenge of learning the ins and outs of insurance. I also enjoy working on our community involvement projects and looking for new ways to support our clients.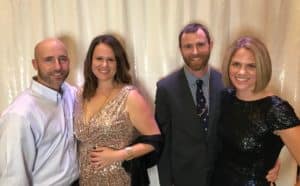 Meghan and Nick with Erin and Mark at an auction for Cocoon House, a McClain Insurance nonprofit partner
What do you like to do outside of work?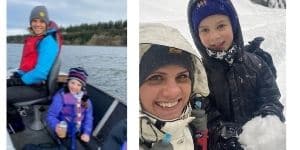 Meghan and Ada crabbing at Kayak Point; Meghan and August snowshoeing
Our family loves to be outdoors, camping, hiking and getting out on the water. I also enjoy being active through running, swimming, and group fitness classes at the Everett YMCA. I recently got a stand-up paddleboard and I'm excited to learn that new skill this summer.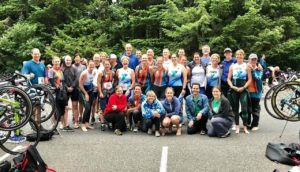 Meghan and Nick with the Everett Y tri club at the Lake Padden triathlon
We have a small fruit and vegetable garden that's a lot of fun to care for. I still love reading and checking out new books whenever I can.
Lightning-round questions!
1. What new hobby or skill would you like to learn? Stand-up paddleboarding!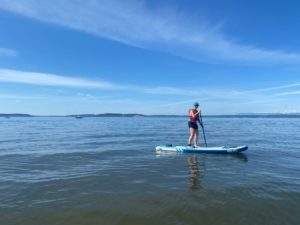 Trying out her new paddleboard at Edgewater Beach
2. What's your favorite local business or restaurant? Sage and Cinder and K Fresh are my two favorite restaurants. And I have to recommend The Milk House Coffee Co. – Ada and I have spent many homeschool mornings there this year.
3. What is your biggest fear? Heights. Nick encouraged me to go skydiving with him before we were married, but it didn't cure me of the fear.
4. What would you sing at karaoke night? "Comfortably Numb" with Nick or something by the Dixie Chicks or Brandi Carlile
5. What did you want to be when you were a child? A poet
6. What are two things you know you should know how to do but don't? Anything car-related
7. What's the most useless talent you have? Remembering the lyrics to random camp songs and musicals
8. How did you spend the money from your very first job? I don't remember, but it likely went toward my first car, a gold Dodge Omni.
9. What topic could you give a 20-minute presentation on without any preparation? Crisis communications
10. What's your favorite holiday tradition? Christmas music! I'm always pushing the envelope on how early I start playing it
Meghan has always loved Christmas
11. What pets did you have growing up? We had lots of dogs and cats over the years, and lots of fish tanks. I had a cockatiel and finches growing up, and pet mice for a while. Between our grandma's pasture and ours, we also had pigs, horses, goats, and cows at various times.
We're so glad Meghan is part of the McClain Insurance family! To learn more about Meghan and the rest of our team, visit autohomeboat.com/about.