McClain Insurance Services earns Safeco Insurance Award of Excellence
McClain the only Snohomish County agent to receive prestigious industry award
Safeco Insurance has selected Claudia McClain and the team at McClain Insurance Services in Everett for an Award of Excellence. Fewer than 1 percent of insurance agents across the country who sell Safeco Insurance receive this prestigious honor.
McClain Insurance is the only agency in Snohomish County to earn the coveted industry award and has been selected for the honor for six consecutive years.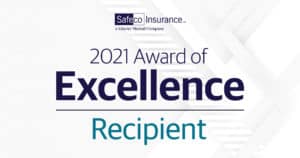 "Our goal is to help our clients make the best insurance decisions to protect themselves and their families," said McClain. "Safeco shares that value, and we are thrilled that McClain Insurance has been recognized with one of the company's top honors."
As the most prestigious underwriting recognition Safeco independent agent partners can achieve, this recognition celebrates superior underwriting skills and excellence in customer service.
"Outstanding underwriting and strong partnerships benefit our clients," said McClain. "Because Safeco Insurance supports independent insurance agents as trusted advisors, I am honored to have been selected for the Award of Excellence."
We are here for you
We're committed to providing the ease, choice and advice you need to navigate your unique personal insurance needs. This recognition really validates our team's efforts and expertise in helping our clients navigate the world of insurance and make the best choices for their needs.
Let us show you the value of having an independent insurance agent work with you! Whether you want to save money, make sure you have the correct coverages or talk about how life changes have impacted your needs, we've got you covered.
Contact us today to get started.