McClain Insurance Earns Safeco Awards
Agency Founder Claudia McClain and Vice President Nick Pembroke Receive Top Honors
Nick Pembroke Earns Safeco Outstanding Agent Recognition (S.O.A.R.) Award
McClain Insurance Vice President Nick Pembroke received the Safeco Insurance Outstanding Agent Recognition (S.O.A.R.) Award for 2018. The S.O.A.R Award acknowledges Nick's diligence, integrity, and passion for excellence.
"We feel honored that once again, Safeco recognized Nick's commitment to providing expert guidance to our clients, his commitment to customer service, and his overall exemplary representation of Safeco," says Claudia McClain, founder of McClain Insurance.
This is the second year Nick received this prestigious award. Only a select group of independent insurance agents in Washington, Oregon, Idaho, Montana, and Alaska were given this honor by Safeco Insurance.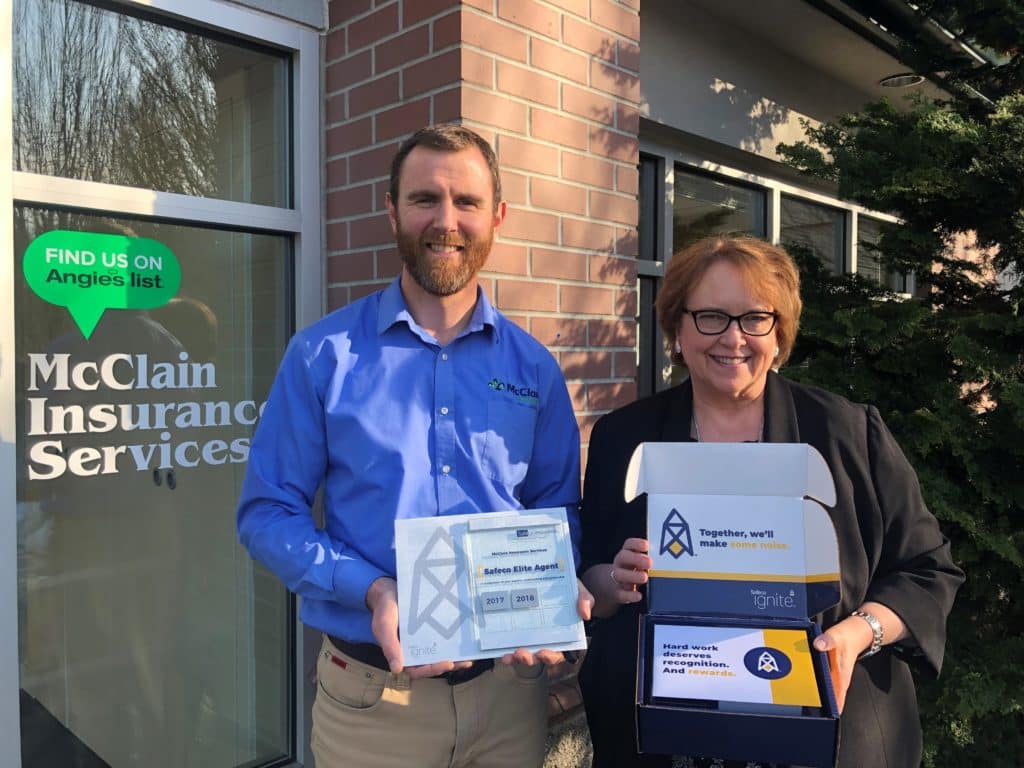 Safeco Insurance Recognizes McClain Insurance for Exceptional Performance
Safeco Insurance has recognized McClain Insurance again as a Safeco Elite Agent for 2018 based upon outstanding performance and partnership. Fewer than 10% of independent insurance agencies countrywide that sell Safeco personal lines products receive this distinguished honor.
Achieving status as a Safeco Elite Agent is a reflection of an agency's success and its commitment to serving clients as a trusted advisor.
"We are honored to be a Safeco Elite Agent," says Claudia. "McClain Insurance has represented Safeco Insurance since 2004, and we take pride in our strong working relationship and our shared commitment to helping our customers protect what matters most to them."
Claudia McClain Receives Safeco Award of Excellence for Superior Underwriting Skill
Safeco Insurance also selected Claudia McClain to receive their Award of Excellence. Fewer than 5% of insurance agents across the country who sell Safeco Insurance personal lines policies receive this prestigious honor.
"I strive to provide our clients with the insurance protection they need at the right price," said Claudia. "Safeco shares that same value, and we are thrilled that we been recognized with one of the company's top honors."
To receive a Safeco Award of Excellence, an insurance agent must have a strong relationship with Safeco and superior underwriting skills.
"Outstanding underwriting and strong partnerships benefit our clients," said Claudia. "Because Safeco Insurance supports independent insurance agents as trusted advisors, I am honored to have been selected for the Award of Excellence."
The McClain Insurance team takes pride in our commitment to being there when you need us most. Stop by, email, or call to let us know how we can help!
McClain Insurance is located at 10410 19th Ave SE, Everett. We can be reached at (425) 379-9200 or team@autohomeboat.com.