A Season of Gratitude and Giving
Two-dollar bill Thanksgiving tradition makes an impact
This Thanksgiving we brought back a favorite McClain tradition: the $2 bill, packaged in a beautiful card featuring an illustration by local artist Elizabeth Person.
Our Thanksgiving cards featuring an illustration by local artist Elizabeth Person
We asked you to let us know what you did with your $2 and you delivered! Because of you, our two-dollar bills have made an impact far beyond what we could have done on our own.
We heard so many creative ideas! One client added it to a care package for her delivery driver. Another used it to buy a Real Change newspaper from someone experiencing homelessness. And a long-time client told us the two-dollar bill is now framed on her wall at home to continue to "nudge" her to share her good fortune.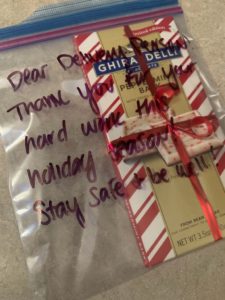 One client added the two-dollar bill to a care package for her delivery person
With the help of his friends, one of our clients multiplied his donation to Housing Hope by a lot! He posted about his contribution on Facebook on Giving Tuesday and asked his friends to consider making their own gift with a "2" in it. His generous friends and family helped turn the two-dollar bill into a $266 contribution!
Helping feed the hungry
Many of you were inspired to donate to groups working to fight hunger, often adding onto your already generous contributions.
One family's $2 went toward a "reverse advent calendar." They'll collect food items and toiletries all month and deliver it on Christmas Eve to Ryan's House, a shelter for teens and young adults on Whidbey Island.
Another witty client told us that "Tom" joined his friend "Ben" to support the Helping Hands Food Bank of Skagit County, turning our $2 into a $102 donation.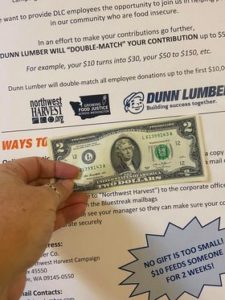 Dunn Lumber tripled their employees' contributions to Northwest Harvest, turning client Kim Kreger's $2 into $6!
A variety of local and nationwide groups working to feed people benefitted from your generosity this winter, including:
One longtime client, a retired Presbyterian pastor, shared that he has been "sort of wrapped up" in himself since his wife passed away in August. He said: "When I retired, I determined to find the closest church to where we lived. That happened to be Our Savior's Lutheran Church. So for these 24 years, I've been a Sojourner Presbyterian pastor and feeling ever so welcome. This Sunday, the church is having a 'drive by" food drive. I'm going to participate adding $48 to your $2 bill in gratitude for the good, kind, caring people I've met over these 86 years. "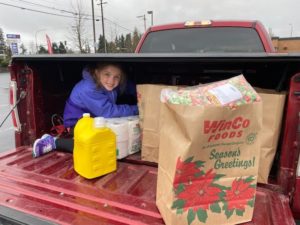 Ada Pembroke loading groceries for a local food drive
Another couple made a donation to Faith Lutheran Church in Everett: "The Church has a small congregation, and manages to do so much with so little. They provide free dinners every Tuesday evening. They also have a small food bank that is open every Friday. For the past two years we have had a garage sale and donated any money received from the sale to this little church. We did not have a garage sale this year due to the pandemic."
And another couple donated a box of food to their local food bank through Klesick Family Farms in Stanwood, which delivers fresh organic produce through their Box of Good program.
We are so grateful to know that our McClain community has been part of making sure people have enough food this holiday season.
Meeting people's basic needs
In addition to supporting groups fighting hunger, several clients sponsored families through the Early Childhood Education & Assistance Program (ECEAP) and the YMCA. Others made donations to organizations like Cocoon House and the Everett Gospel Mission that are working to provide housing and basic needs.
One family added their two-dollar bill to a care package headed to Second Chance Outreach, which provides gifts for children whose parents are incarcerated.
Another couple donated diapers for the Casino Road Food Bank: "Even though our church (Advent Lutheran) can't meet in person we've done several drive-by food collection events for our local food banks over the past six months. Last weekend, the church held a diaper drive for the Casino Road Food Bank. Bill and I took your kind donation, added it to ours, and bought a few boxes of diapers. The congregation chipped in and it wasn't long before we filled the back of our pastor's truck. Such kindness!"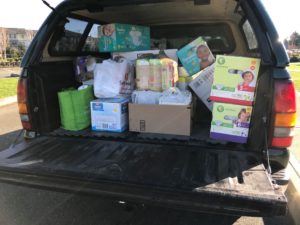 A trunk full of diapers for the Casino Road Food Bank
One of our clients touched us with her thoughtful gesture toward a woman living in her car in her community. She added the two-dollar bill to a bag of food with a blanket and a note reminding the woman that she is not alone.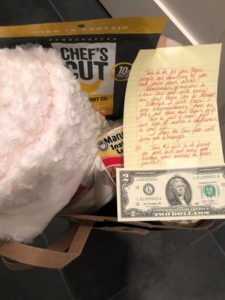 A thoughtful gift for a woman experiencing homelessness
Many organizations benefitted from your generosity, including:
We are truly humbled by your generous and thoughtful support of people in need this winter!
Spreading kindness
During this difficult year, we're also delighted that many two-dollar bills went toward special treats for you and your loved ones. A number of bills will be making their way to stockings and piggy banks this Christmas!
We loved hearing about all the two-dollar-bill collectors among our clients! One couple shared that their $2 went to an older brother who has had some medical difficulties this year. He collected two-dollar bills as a child and their gift inspired him to start collecting again once he's able.
Another friend of the agency gave her two-dollar bill to her daughters and encouraged them to think of someone to gift it to. "There is something so special and fun about a $2 bill," she told us.
One couple treated each other to $1 ice cream cones. And Abram Elwell's son Asher earned his two-dollar bill after helping his dad put in new flooring in their house. Great job, Asher!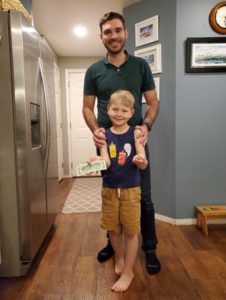 Abram and Asher Elwell
With your thoughtful generosity, our two-dollar bills have traveled all over. From Samaritan's Purse to the Los Angeles Regional Food Bank to local food banks and your own families, you are making a difference this holiday season.
Thank you for taking us with you this holiday season!