Community Partner: Nick's 100-mile run for Big Brothers Big Sisters of Snohomish County
On Aug. 22, McClain Insurance Vice President Nick Pembroke set out to complete one of his biggest goals yet: running 100 miles on the Japanese Gulch trails in Mukilteo.
Nick celebrates after his run
But he didn't do it just for himself. Nick dedicated his run to Big Brothers Big Sisters of Snohomish County (BBBS), a local organization focused on helping kids achieve their potential through one-on-one mentoring relationships. BBBS is near to Nick's heart, and is one of McClain Insurance's "Share the Good" referral program nonprofit partners. We are also proud to sponsor their upcoming Dream Builders Auction.
Giving back to our community through volunteering
Our partnership with BBBS grew out of Nick's involvement with their school-based mentoring program. At McClain Insurance, we offer each of our team members 16 hours paid time each year to dedicate to volunteer efforts.
Since 2013, Nick has used his volunteer time to serve as a "Big" with BBBS. Each Monday during the school year, Nick spends his lunch hour leading a book club for 2nd and 3rd graders at Madison Elementary in Everett.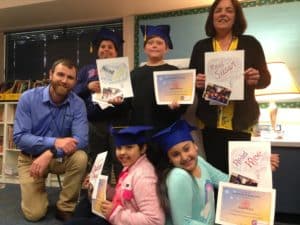 Nick with his Madison Elementary book club
The book club members play games, practice their reading, and celebrate each other's successes.
And while improving the students' reading is a primary goal of the group, one of the main benefits for the kids is having a consistent, positive influence in their lives. Many of the kids in Nick's book club come from challenging life experiences and may face academic difficulties as well.
"Spending time with my book club kids is one of the highlights of my week," Nick says. "I love getting to know them and seeing them become stronger readers, build confidence, and develop friendships with their fellow book clubbers."
In 2019, Nick was also asked to serve on the Board of Directors for Big Brothers Big Sisters of Snohomish County. He's seen the difference BBBS programs can make in kids' lives and is excited to contribute to the organization in another way.
Running with purpose
Nick has been an avid trail runner for several years now, and was planning to run this year's Cascade Crest 100, a trail run based in Easton, WA. When the race was canceled because of COVID, Nick started brainstorming with other members of his local running group, the Japanese Gulch Runners, about developing a DIY 100 miler closer to home.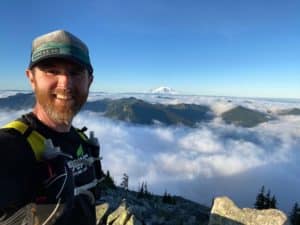 Nick on a training run
He trained all spring and summer, with lots of long weekend runs on area mountains, including an overnight 62-mile run that he started one Friday evening at the end of a work week.
100 miles is a long way to run, and Nick knew he would need extra motivation to keep him going when things got challenging. He decided to dedicate his run to Big Brothers Big Sisters of Snohomish County. He shared his goal on social media, and soon, friends and family started donating to his effort.
Nick started his 100-mile run early on Saturday, Sept. 22, and ran all through the day and night. Our McClain Insurance team had fun surprising him throughout the day with personalized signs and cheer squads.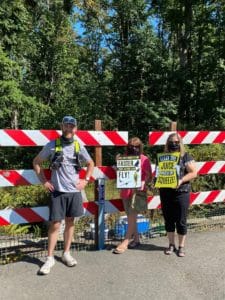 Mary and Laura cheering Nick during his race
Nick finished his run Sunday morning, in a little more than 28 hours – and he still had a smile on his face! To add to his accomplishment, Nick raised more than $6,700 for Big Brothers Big Sisters of Snohomish County!
Making a difference in the lives of local kids
Big Brothers Big Sisters of Snohomish County relies on community support and donations in order to serve the many local kids who take part in one of several BBBS programs.
BBBS is probably best known for its community-based mentoring program, where "Bigs" and "Littles" are paired and meet together multiple times a month for social activities and one-on-one time.
In addition to community-based mentoring, Big Brothers Big Sisters of Snohomish County also offers several school-based programs:
School-based mentoring is similar to community-based mentoring, but Bigs and Littles meet at the student's school for homework, games and other activities.
The Beyond School Walls program brings students to a local company to learn about careers and participate in group activities.
Kids Books Clubs, like the one Nick leads, provide an opportunity for struggling readers to work on literacy and discussion skills in a small-group setting.
BBBS' newest program is MentorU, which pairs high school students with local community members. Through electronic communication and a monthly in-person group session, MentorU is designed to help students develop personal, academic and career skills.
Big Brothers Big Sisters of America has been around since 1904. It is the oldest and largest youth mentoring organization in the country. Kids involved in BBBS make huge strides in key skills and behaviors, such as school attendance and grades, ability to get along with peers, and parental trust.
Our partnership
In addition to Nick's volunteer work, McClain Insurance Services has supported Big Brothers Big Sisters of Snohomish County for many years. BBBS is one of our Share the Good referral program beneficiaries. Every time one of our clients refers someone to our agency, we donate $25 to one of our nonprofit partners.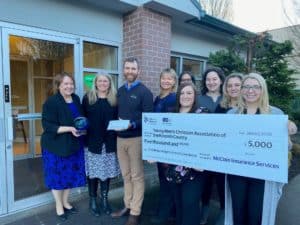 The McClain team presents the Safeco grant to Pam Shields, executive director of BBBS
In January 2019 McClain Insurance was named Safeco Insurance's Northwest Region Agent for the Future. As part of the award, Safeco donated $5,000 to the nonprofit of the agency's choice. We chose Big Brothers Big Sisters of Snohomish County to receive the grant McClain Insurance matched the Safeco grant with another $5,000 to BBBS.
We're also proud to be a signature sponsor of this year's Dream Builders Auction, one of BBBS' main fundraisers. The virtual event begins with a silent auction on Sept. 9, leading up to the live auction on Sept. 12. To get more information or register for the event, visit bbbs-snoco.org/dream-builders-auction.