Why I Carry Earthquake Insurance
A client's experience of the 1994 Northridge earthquake
February is Earthquake Awareness Month and we want our clients to be prepared for this very real risk. That's why we have an in-house earthquake specialist, Dova Smith, on our team.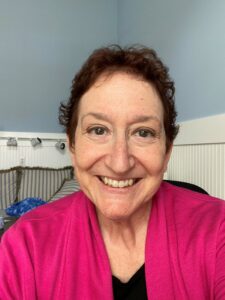 New client Lori Baker-Schena shared her earthquake experience for our blog
Dova recently helped new client Lori Baker-Schena purchase earthquake insurance after she moved to Washington state this summer. Lori and her family lived through the 1994 Northridge earthquake and she generously offered to share her experience for our blog.
At 4:30 a.m. on January 17, 1994 – my 6th wedding anniversary – a ginormous 6.7 earthquake centered in Northridge, California (15 miles from our house in Valencia in Southern California) literally jolted us awake. You could hear the earthquake rumbling, and instead of a quick jolt, the shaking got more and more intense as the seconds clicked by. It was so violent that my husband, who is NEVER rattled, started screaming loud and hard. I started screaming too.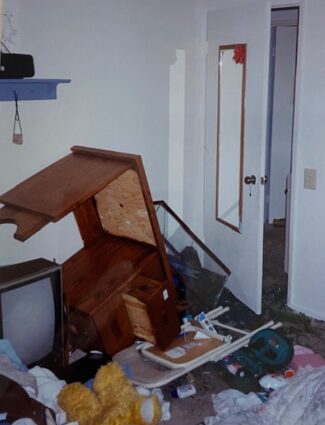 Lori's daughter's 2nd-floor room; everything tipped over and the aquarium was smashed. It leaked all the way to the first floor. Lori's daughter was initially trapped in the bedroom because they couldn't open the door.
When the shaking stopped, our two-story house was an absolute mess. Our first thought was to get out of the house, but there was glass everywhere, and one of my daughter's doors was slammed shut from a flying aquarium that had crashed and wedged next to her bedroom door – so we had to move things to get to her. The aquarium ended up leaking down to the first floor.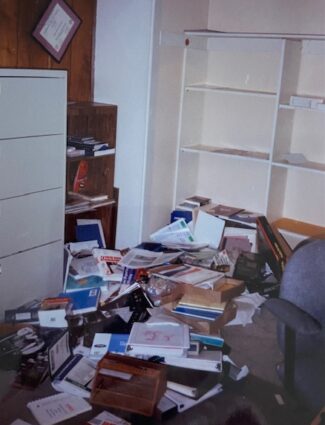 Lori's home office: Books and files flew off of shelves
There is no way to describe how scary this earthquake was in terms of noise and intensity. We were all shaking – and the large aftershocks occurred for months afterwards, giving everyone a jolt of adrenaline.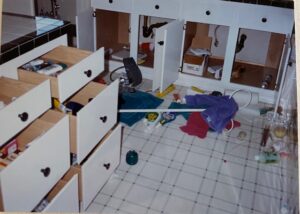 Lori's main bathroom, where all of the drawers opened up and spilled out. The kitchen was similarly affected; all of the food flew out of the refrigerator and dishes out of the cabinets.
One of the most striking aspects of the damage was how every single cupboard, shelf and drawer flew open. Every single one. So in the kitchen, the refrigerator door had shaken open and every single item in the refrigerator landed in the middle of the floor. The same held true for the dishes and glassware – all of it destroyed in the middle of the kitchen.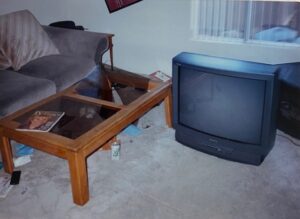 One of the family's TVs – both launched off of their stands
The quake was so strong that it launched two heavy TVs (before flatscreens were common) and they both fell on the floor. Fortunately, we had carpet and they weren't broken.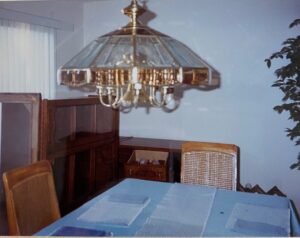 In the dining room, the earthquake launched an unsecured hutch off of its buffet base, destroying Lori's mother's antique glassware
My hutch, filled with my late mother's precious glassware, literally went flying and everything in the hutch was irreparably destroyed. It was devastating. My husband lost his beer stein collection in the living room, and all of the collectables on our shelves.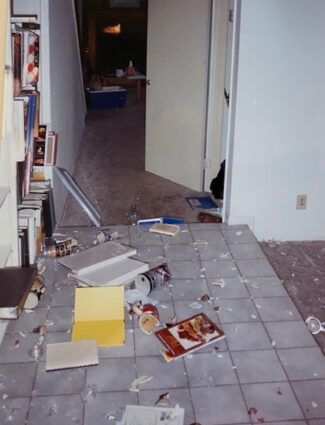 The family's entryway – many collectibles were destroyed and the bookshelves were emptied by the quake
Upstairs, the girls' rooms (two daughters) were destroyed. Everything came down off the shelves. Luckily, we didn't have anything hanging over the beds, as they could have injured us. Both bathrooms were a mess as the drawers opened and everything flew out.
Outside, our house did okay although our brick chimney broke in half and fell on our roof, damaging the living-room ceiling. Also, we had a brick fence that came tumbling down.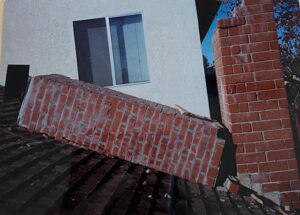 The brick chimney broke in half and damaged the living-room ceiling
We lost electricity for three days, and actually created a portable toilet to do our business outside. We slept in a camper for a few days until we were sure the house was structurally okay.
I have never been this scared in all of my life. Fortunately, it was over Martin Luther King's Day weekend, so very few people were up or out and about. A motorcycle police officer died driving off an elevated freeway interchange that had completely collapsed and he couldn't see it because it wasn't light yet. The entire region was devastated and if you Google the 1994 Northridge quake you can see the widespread damage. It took years to fix.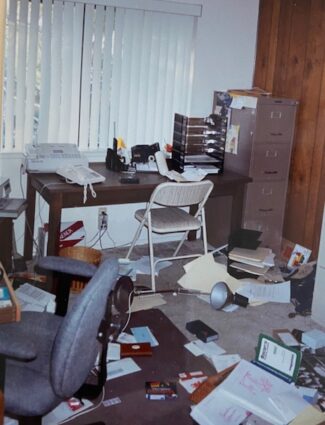 Lori's home office
For us, I was so grateful that all of our damage was repairable. We didn't have earthquake insurance at the time, which really set us back. The previous earthquake was in 1971, so it wasn't top of our minds but it should have been. Ever since the 1994 earthquake, we have had earthquake insurance. The damage these quakes can create is no joke.
We recently moved from Southern California to Olympia and one of the first things I did was to purchase earthquake insurance. I am so glad it is available – it provides real peace of mind knowing that if an earthquake causes structural damage, we will be able to have a place to live and funds to rebuild. Our home is our most precious asset, and without insurance, you are in danger of losing it all. We were fortunate enough to secure a FEMA loan back in 1994 – but that agency has changed as well.
Although this earthquake happened more than 28 years ago, it feels like yesterday. So glad I found McClain Insurance, who offers a truly affordable, comprehensive earthquake plan. Now I can continue to have peace of mind in my new home.
Is your home protected in the event of an earthquake? Contact Dova today to learn more about the coverages we offer.