McClain Insurance delivers "Food for Our Future" to Cocoon House teens
More than 6 months of Wednesday night dinners from local restaurants
Wednesday, Dec. 30, marks 31 weeks of Food for Our Future, the McClain Insurance Services initiative to help provide food for teens living at Cocoon House during the pandemic. Every week since the beginning of June the McClain team and their partners have purchased and delivered a Wednesday night dinner from a local restaurant to Cocoon House.
Under normal circumstances, Cocoon House receives homemade dinners from churches and other local groups, but COVID-19 restrictions prohibit that. In response, the McClain Insurance team came up with Food for Our Future.
Claudia McClain delivers food from K Fresh to Christina Cuenca of Cocoon House
"Our goal is to reduce the strain on Cocoon House's food budget while also helping keep Everett restaurants afloat," said Claudia McClain, president of McClain Insurance Services. "The past several months have been difficult for so many people in our community. We're grateful for the ongoing support from our customers and wanted to pay it forward."
A community coming together
When her team first developed the idea, McClain said, they reached out to some of their partners. Alpine Cleaning and Restoration, another local business, immediately stepped up to co-sponsor the effort. Along the way, other organizations have joined the cause, including Everett-based Advocate One and PEMCO Insurance.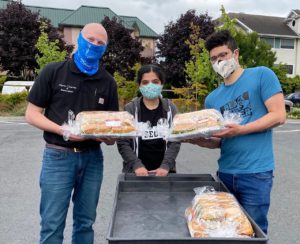 Kevin Kaczka delivers dinner from Red Rock Subs to Cocoon House
"Giving back to the community is always a focus for our team, and now that's more important than ever," said Kevin Kaczka, owner of Alpine Cleaning and Restoration. "We're also glad to have the opportunity to help support Everett restaurants during these uncertain times."
Food from all around Everett
The teens at Cocoon House have enjoyed a wide variety of dinners, from lasagna to burgers to bibimbap bowls, with dinners provided from:
"Our local restaurants have been incredibly generous, providing us with huge platters of delicious food for the teens at Cocoon House," said McClain. She has also used gift cards from Progressive Insurance and Safeco Insurance to purchase dessert some weeks.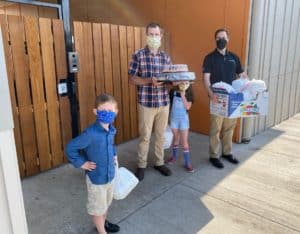 Nick Pembroke, McClain Insurance vice president, with his kids and Patrick Doyle of Advocate One
"We are so grateful to McClain Insurance Services and the growing number of community partners and restaurants who have joined the Food for Our Future project!" said Chelsea Monroe, senior director of operations and development at Cocoon House. "This is a challenging time for our community, and even more so for the young people who depend on Cocoon House for safety and stability. Having delicious meals made especially for our young residents has been such a welcome treat for both the youth and staff, and we are proud to be a part of this incredibly supportive and generous community."
Cocoon House has been one of McClain Insurance Services' designated nonprofits since 2012, and the McClain team provides financial support for Cocoon House events and other programs.
To learn more about our partnership with Cocoon House, visit www.autohomeboat.com/blog/cocoon-house.