Get to Know the McClain Team: Dova Smith
In honor of Dova Smith's 3-year anniversary with McClain Insurance, we're playing "Get to Know the McClain Team." We hope you enjoy learning more about Dova, what she loves about insurance and our community, and her answers to our lightning-round questions.
Tell us a little bit about yourself, your family and where you grew up.
We moved and traveled a lot when I was growing up and I have lots of memories of the places we lived in or visited. I was born in Georgia and then lived in South Dakota when I was still very young. I remember that there was a pond nearby that we waded in once and came out with leeches on us!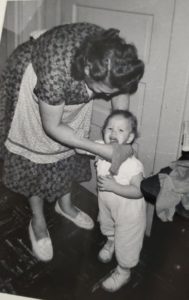 Dova and her grandmother
We lived in St. Paul, Minnesota while I was in 3rd grade. When we moved there, we traveled in a motorhome and I remember being disappointed that we were stuck in a car on the 4th of July. Our stepdad surprised us and pulled over at a rest stop to set off fireworks. On that trip we also stayed in a hotel for a couple of weeks and I learned to swim in the hotel pool.
After Minnesota we moved to Everett. I attended both Hawthorne and Garfield elementary schools and then North Junior High School. (Come to find out, my husband Shawn was actually in my music class in junior high! He played trumpet and I played clarinet.) I found high school boring, so I left school at age 16 and began working at a place that refurbished old telephones. I earned my GED before joining the Army.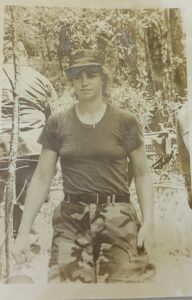 Dova served in the Army Reserves
When I first arrived at boot camp I was not initially named the platoon leader, but I earned that job a few weeks later after the first leader was fired because she kept falling asleep in class. In basic training we had some really tough tasks to master, including operating an M16 machine gun. I was selected as platoon leader because I just happened to be the first to learn how to pull back the charging handle on the M16 – right when our sergeant was looking my way!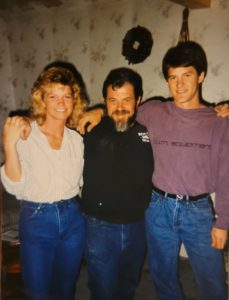 Dova and her brother reunited with their dad in Spokane
I didn't grow up with my biological father and didn't meet him until I was an adult. When I was working for McClain Insurance back in the 1990s, a call came into the office one day from someone my dad had hired to find me. So, having never met him, I drove to Spokane with my brother to finally meet him.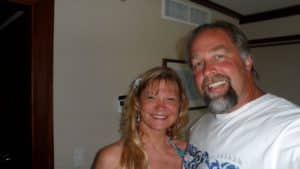 Dova and husband Shawn
I met my husband Shawn on match.com 14 years ago and our 10th wedding anniversary is coming up in August. He has two boys, Cole and Kenneth. Kenneth is a senior at Cascade High and is getting ready to enlist in the Navy. I also have two adult sons of my own, Garret and Adam, who live in California.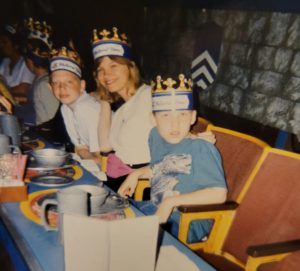 Dova with her sons at the Medieval Times Dinner Theater
Shawn and I have two dogs, Nattie (7) and Emma (6). We also have a green-cheeked conure named Ruby, who we've had since she was a baby; she's now 11. I'd had African Greys and a cockatiel when I was younger and chose Ruby because green-cheeked conures are known for being one of the quieter birds of their breed. She doesn't talk a whole lot, but does have a few things to say: "What are you doing?" and "Are you gonna bite me?" (She learned the latter from our house sitter long ago when we were in Hawaii for a couple of weeks.)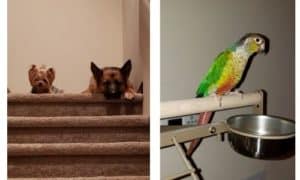 Nattie, Emma and Ruby
Tell us about your career. How did you get into this industry and when did you join the McClain team? Any notable non-insurance jobs?
I first joined the McClain team in 1991 as a one-day temporary employee. Claudia asked me to stay a bit longer after that first day and then asked me to stay permanently. I ended up earning my insurance license and stayed at the agency for 9 years. I rejoined the team as an earthquake specialist in 2018.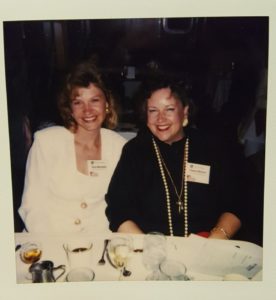 Dova and Claudia at a murder-mystery event in the 1990s
Besides working in insurance, I've had the chance to experience a lot of different industries. I've managed an Alfy's Take n Bake, typed construction specifications for an architecture firm, worked at a call center and sold on eBay, Etsy and Amazon.
Prior to first joining McClain Insurance I worked as a blackjack dealer in Nevada and I've also dealt cards at Everett-area casinos. Several years ago I completed massage school and worked as a massage therapist for a while. I even got licensed as an equine massage therapist and had two horse clients that I loved visiting. I graduated with my Associates degree in Computer Science from ITT Institute when I was 49.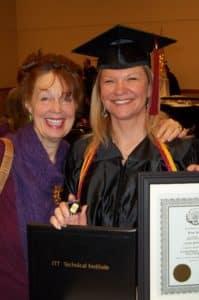 Dova with her mother-in-law, Linda, at her graduation from ITT Technical Institute
A few years ago I ran into Claudia and we started talking about me coming back to the agency. I rejoined the team in March 2018. I'm so happy to be back!
What do you like most about working for McClain Insurance?
I feel very fortunate that Claudia wanted to have an earthquake niche in the agency. I've always been interested in the subject, so I LOVE what I'm doing.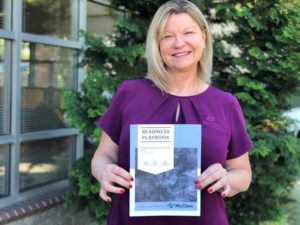 Dova with an earthquake readiness playbook
While that is fabulous on its own, the best thing about working here is the wonderful people I work for and with, and all the great things we are able to do in the community. I've worked for several other employers since I first left the agency in 2000, and nobody holds a candle to how I feel being a part of this team again.
What do you like to do outside of work?
Even before the pandemic, I was a homebody. Lately, I've been playing World of Warcraft; I've played it off and on since it was released in 2004. I also love to crochet, paint by numbers, and diamond paint. In the summertime, I like to have a little container garden. I'm not as active as I should be these days, so I've been attempting some yoga. It's a work in progress. ?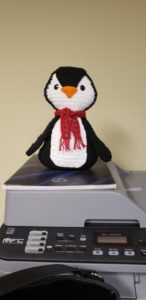 A penguin Dova crocheted for Claudia
Lightning-round questions!
1. What's your favorite local business or restaurant? Emory's. Bread and dipping oil and steamed clams are my go to.
2. What is your biggest fear? Always has been, and still is, spiders
3. What motivates you to work hard? That feeling of accomplishment when I've helped someone and they are happy!
4. What would you sing at karaoke night? I have my own karaoke system. I have to say anything country works for me! 455 Rocket by Kathy Mattea has always been my favorite one to sing, though.
5. What did you want to be when you were a child? A singer and performer, though you wouldn't know it now!
6. If you could start a charity, what would it be for? Homeless animals
7. What food do you love that a lot of people might find a little odd? Raw oysters
8. How did you spend the money from your very first job? On a car
9. What topic could you give a 20-minute presentation on without any preparation? How to make homemade chicken and dumplings, southern style.
10. What book had the most significant impact on you? Outlander, by Diana Gabaldon
11. If you were a superhero, what powers would you have? Shapeshifting
12. What pets did you have growing up? Mice, rats and guinea pigs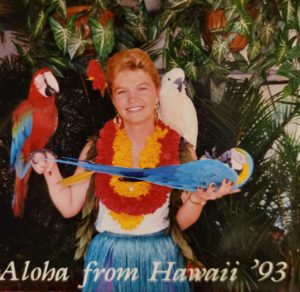 Dova has always been an animal lover
13. What's the most daring thing you've ever done? Tried out for Survivor
We're so glad Dova is part of the McClain Insurance family! To learn more about Dova and the rest of our team, visit autohomeboat.com/about.