Get to Know the McClain Team: Nick Pembroke
In honor of Nick Pembroke's 20-year anniversary with McClain Insurance, we're playing "Get to Know the McClain Team." We hope you enjoy learning more about Nick, what he loves about our community, and his answers to our lightning-round questions.
Tell us a little bit about yourself and your family.
My early years were in Everett. I lived on Nassau Street a block south of the Pacific campus of Providence Hospital. That's when my family first met the McClains.
7-year-old Nick learning to roller skate with a pillow for protection
My mom and Claudia McClain were at a new moms' class and realized they were neighbors. Claudia and Pat's son, Tim, and I are a few weeks apart and we stayed close friends when I moved to Snohomish at age 9 (Tim was even the officiant when Meghan and I got married and I officiated when he married his wife, Ondine).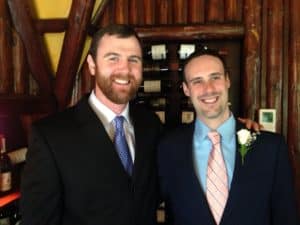 Nick with Tim McClain at Tim's wedding
When we left Everett we moved to a house in the Machias area of Snohomish. We had a few dogs, Tauni (husky), Max (cockapoo), and Moses (terrier of some sort adopted from Everett Animal Shelter when it was on the riverfront). We had a goat named Charlie; he was very much a pet.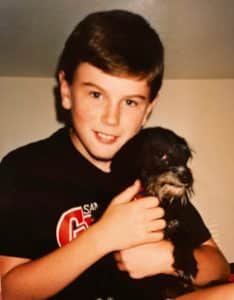 Nick with his dog, Moses, circa 1988
I was an only child until age 11 and played a lot in the woods. My dogs were always with me, so I could go deep into the woods. When my parents wanted me to come back to the house they would ring an old ship-bell and the sound would carry a long way. I knew it was time to run home when that rang.
My parents divorced when I was 11. They both remarried and I went from being an only child to having seven siblings!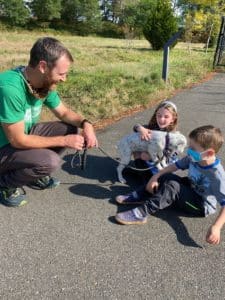 Nick and kids meeting their puppy, Ashland (Ash) for the first time
After living in Seattle and Shoreline for several years, my wife Meghan and I moved to Everett in 2013. We have two kids, Ada and August, and two dogs, including a puppy we adopted from the Everett Animal Shelter in September.
Tell us about your career. How did you get into this industry and when did you join the McClain team? Any notable non-insurance jobs?
In December 2000 I was in my senior year at Western Washington University in Bellingham. Tim, Claudia's son, had taken a semester off school and was working for Claudia answering phones and helping with filing. He asked if I would be interested in taking his job when he went back to school.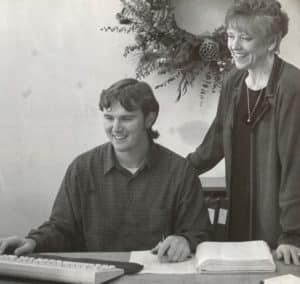 Nick and Claudia in 2004, four years after he joined the agency
I took time off school and started answering phones, sorting the mail as it came in, and helping with odd jobs in the office. I really enjoyed talking with clients and liked the atmosphere of the office. Eventually, Claudia suggested that I get licensed, and the rest is history. I used to say that I learned insurance by osmosis, but really, I had arguably the best insurance mentor in the country helping me along the way.
I've had lots of interesting jobs outside of insurance, including working as a ski instructor with Clancy's Ski School.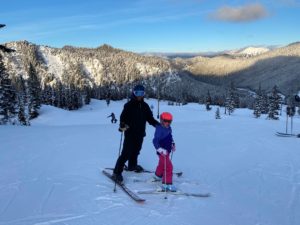 Nick skiing with daughter Ada this winter
One of my favorite jobs was the summer I spent bussing and waiting tables in a restaurant at Yellowstone National Park. Several friends worked with me there and when the summer was over, we took a road trip home together, stopping at as many national parks as possible.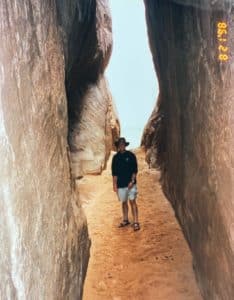 Nick in a slot canyon at Zion National Park
What do you like most about working for McClain Insurance?
I love getting to know people. I like hearing their stories and watching their families grow. I get to catch up on people's lives while helping provide them advice and coverage.
When people think of insurance, they often picture accidents or claims situations. But really, we mostly help with a ton of celebrations and milestones in people's lives, like new houses, new cars, engagements and weddings. I get to say congratulations a lot.
What do you like to do outside of work?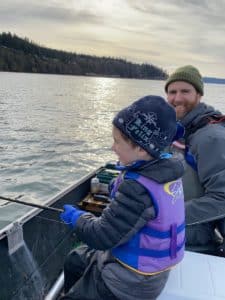 Nick's son August fishes on a family crabbing trip
I'm very much an outdoorsy type and I love to adventure with my family. We hike, camp, and backpack during the summers and ski during the winter. We also enjoy growing veggies in our backyard and have big plans for next year's garden.
My wife, Meghan, and my kids love the outdoors, too. On our bucket list is seeing as many national parks as we can as a family.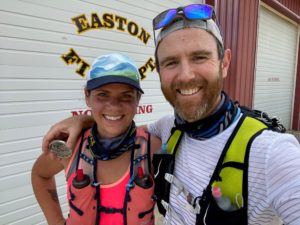 Nick and wife Meghan on a run near Lake Easton
I also really enjoy running. I got into a steady habit of trail running in the past 10 years and have completed a number of ultramarathons more recently.
Lightning-round questions!
1. What new hobby or skill would you like to learn? I'd like to get better at guitar. I took lessons for a few years and my daughter takes piano lessons. Music has always fascinated me.
2. What is your biggest fear? I've always had a silly fear of heights. I'm not sure where it came from and I have tried a lot of ways to overcome it. My mom let me go skydiving at 16, because I was certain that would help.
3. What's your favorite local business or restaurant? I like a lot of different types of food, but one of my favorites right now is K Fresh rice bar on Hewitt Avenue. We've had our fair share of takeout from K Fresh this year.
4. What motivates you to work hard? For work, it's the enjoyment of helping people and making sure I'm keeping my promises to them. Outside of work, I like to set goals and do things I wouldn't think possible. There's an enjoyment in pushing through what seems like a stopping point.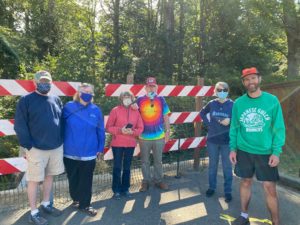 Nick at the finish line of his DIY 100-mile race in August, with Pat and Claudia McClain; his dad and stepmom, Tim and Pat; and his mom, Sally
5. What would you sing at karaoke night? So many… "Piano Man," various Pink Floyd songs, "Eternal Flame" by the Bangles, James Laid…
6. What did you want to be when you were a child? From a pretty early age, I wanted to be an anthropologist. My parents both studied that in college. I imagined myself as a teacher. I love reading and for a time I was also interested in being a travel writer.
7. What are two things you know you should know how to do but don't? I can't shuffle cards properly. I just make a messy pile of cards that aren't really mixed. I also wish I understood basic Spanish. (I took French in high school, but don't remember much of that, either). My wife speaks in Spanish when she wants to keep something private from our kids, but I can't understand her.
8. What's the most useless talent you have? Wiggling my ears.
9. If you could start a charity, what would it be for?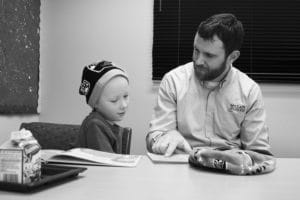 Nick with one of his BBBS students
I don't know that I'm up for starting my own charity, but I am really proud to work with Big Brothers Big Sisters of Snohomish County. I've volunteered as a reading group leader at Madison Elementary since 2013. I also joined the BBBS board last year.
10. What food do you love that a lot of people might find a little odd? I really love jalapeno-stuffed olives.
11. How did you spend the money from your very first job? I did yardwork in our neighborhood starting when I was nine or ten. When I was 11, I had saved up enough to buy a tent from the REI garage sale. My friends and I would load up our school backpacks and "hike" to the Pilchuck tree farm behind our house and camp overnight.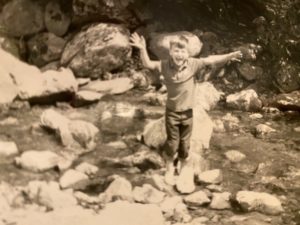 Nick on a family camping at age 5
12. What's your favorite holiday tradition? One of my favorite traditions is the Looney Dook run we do on New Year's Day with friends from our Everett YMCA Tri Club.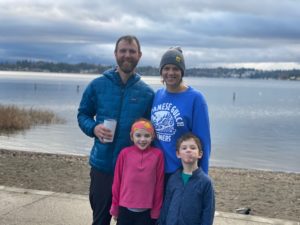 The Pembrokes post-dip in January 2020
We meet at Lundeen Park on Lake Stevens, run four miles, and jump in the lake. Then we have coffee and doughnuts and catch up with friends. It's cold, but a surprisingly fun way to welcome in the new year
We're so glad Nick is part of the McClain Insurance family! To learn more about Nick and the rest of our team, visit autohomeboat.com/about.